The Best Panpipes - Album In The World... Ever!
Категории:
Аудио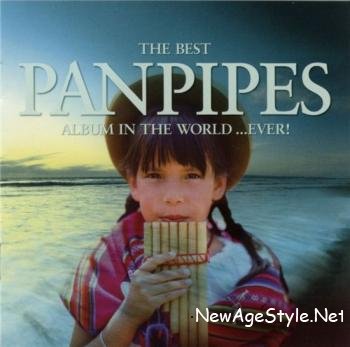 Исполнитель<
: Сборник
Альбом
: The Best Panpipes - Album In The World... Ever!
Год издания
:
Стиль
: Instrumental, Flute
Треклист
:
CD1
101. Trouble (Coldplay)
102. Beautiful (Christina Aguilera)
103. Hero (Enrique Iglesias)
104. Whole Again (Atomic Kitten)
105. Evergreen (Will Young)
106. Flying Without Wings (Westlife)
107. Here With Me (Dido)
108. Angles (Robbie Williams)
109. If You're Not The One (Daniel Bedingfield)
110. Amazed (Lonestar)
111. Eternal Flame (The Bangles / Atomic Kitten)
112. Imagine (John Lennon)
113. My Heart Will Go On (Celine Dion / Titanic)
114. (Everthing I Do) I Do It For You (Bryan Adams / Robin Hood Prince Of Thieves)
115. I Believe I Can Fly (R.Kelly)
116. Shes's The One (Robbie Williams)
117. Careless Whisper (George Michael)
CD2
201. Candle In The Wind (Elton John)
202. Unchained Melody (Righteous Brothers / Gareth Gates)
203. Perfect Day (Lou Reed)
204. Un- Break My Heart (Toni Braxton)
205. Can't Fight The Moonlight (Leann Rimes / Coyote Ugly)
206. Back For Good (Take That)
207. I Will Always Love You (Whitney Houston / The Bodyguard)
208. When You Say Noting At All (Ronan Keating / Nothing Hill)
209. Up Where We Belong (An Officer And A Gentleman)
210. Against All Odds -Take A Look At Me Now- (Phil Collins / Against All Odds)
211. How Do I Live (Leann Rimes)
212. I Just Called To Say I Love You (Stevie Wonder)
213. How Deep Is Your Love (The Bee Gees)
214. When A Man Loves A Woman (Percy Sledge)
215. Ruby Tuesday (Rolling Stones)
216. Love Me Tender (Elvis Presley)
217. As Long As You Love Me (Backstreet Boys)
218. Thank You For The Music (ABBA)
CD3
301. Adagio For Strings (Barber)
302. Time To Say Goodbye (Sarah Brightman / Andrea Bocelli)
303. Chi Mai (Morricone)
304. Ave Maria
305. O Sole Mio
306. Theme From The Mission (Morricone)
307. El Condor Pasa
308. Catchapaya
309. Orinoco Flow (Enya)
310. Love Theme From The Thorn Birds (Mancini)
311. Girl From Ipanema, The (Astrud Gilberto)
312. Moon Over The Andes
313. Flight Of The Condor
314. Guantanamera
315. Storms In Africa
316. Wave
317. Scarborough Fair
318. Out Of Africa
319. Sound Of Silence, The (Simon & Garfunkel)
320. That's Amore -That's Love- (Dean Martin)
321. Spanish Eyes
CD4
401. Can You Feel The Love Tonight (Elton John / The Lion King)
402. Endless Love
403. It Must Have Been Love (Pretty Woman)
404. Beauty And The Beast
405. When You Wish Upon A Star (Pinocchio)
406. There You'll Be (Pearl Harbor)
407. Whole New World, A (Aladdin)
408. You'll Be In My Heart (Tarzan)
409. Nobody Does It Better (The Spy Who Loved Me)
410. Because You Loved Me (Up Close And Personal)
411. She's Gone (Hall & Oates)
412. Tracks Of My Tears (Smokey Robinson)
413. Easy (Lionel Richie)
414. Three Times A Lady (The Commodores)
415. Mama (Spice Girls)
416. Killing Me Softly With His Song (Roberta Flack / Fugees)
417. When I Need You (Leo Sayer)
418. You Needed Me (Boyzone)
Рейтинг:


Автор:
yog
| Дата: 7 июля 2009 | Просмотров: 5 967
Коментарии: The Best Panpipes - Album In The World... Ever!
Информация
Посетители, находящиеся в группе Прохожий, не могут оставлять комментарии к данной публикации.
ОПРОС
Нью эйдж музыка будущего?